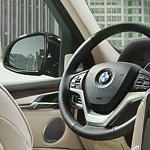 The BMW X5 is the midsize SAV owners drive when desiring a spacious vehicle that exudes elegance and luxury. Inside and out, the sport activity vehicle has features that ensure comfort, convenience, and style. Select an X5 in nine different colors and four trim levels to achieve the look and power your need.
The exterior features gentle curves and subtle lines that flow seamlessly around the body. The front end has a pair of kidney-shaped chrome grilles flanked by aggressive-looking headlights topped by a row of daytime running lights. Sharper angles define the rear that includes a pair of integrated exhaust pipes.
The stunning interior features leather upholstery on the seats, door panels, and dashboard. Real wood trim accents the dashboard and center console. The BMW X5 also comes standard with a number of luxurious technologies not found in other vehicles. Schedule a visit at our Urbandale, IA BMW of Des Moines location. Ask about taking a test drive.